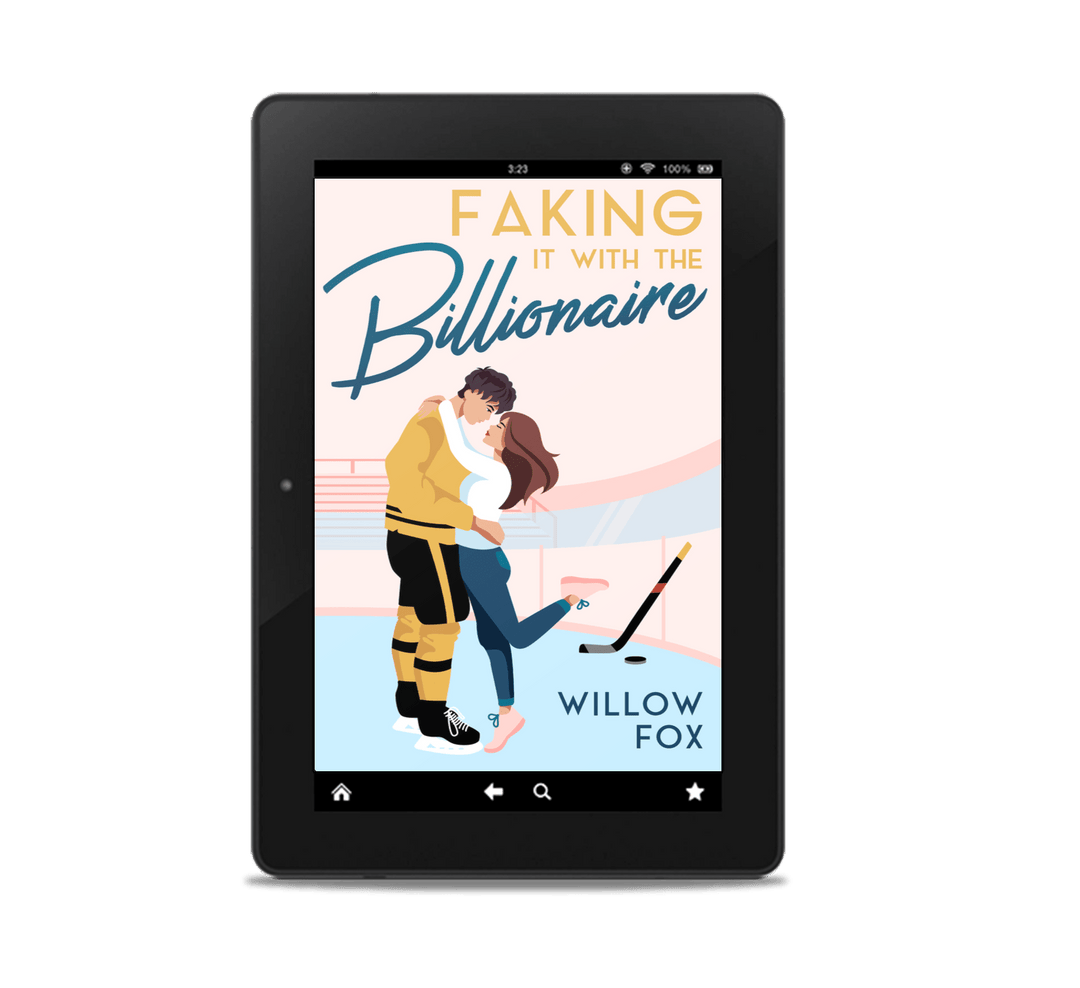 Faking it with the Billionaire (eBook)
---
When you're a star athlete and hire a bodyguard to protect your daughter but…
The agency sends you an adorable 5 foot 2 brunette that barely looks capable of protecting herself, let alone anyone else.
Turns out "Ryan" is Emerson Ryan, former FBI. She drop-kicks your butt to the ground to prove her point.
She's more than capable of protecting Bristol, your little girl…
But you shouldn't be turned on by her fierceness.
Everyone thinks she's your daughter's nanny, including Bristol. Emerson looks the part and goes along with it at your insistence until she's forced to be your daughter's babysitter.
With a professional hockey career on the line, you need Emerson by your side. But questions will arise the moment you hire a "second" nanny for Bristol, and you don't want to worry your daughter about the threat to her safety.
The next best thing?
Hire Emerson as your fake girlfriend. She can protect Bristol, and you get a little extra publicity when the news learns about your new spicy romance.
But how long can you pretend everything is fake when the sparks are real?
This steamy hockey romance book features a grumpy single dad, a sizzling romance with plenty of drama. No cheating. Standalone. HEA.
Emerson
Rain pelts the cement, pouring overhead as it splashes down on the broken umbrella. I've managed to hold the latch open, but if I move my hand just slightly, it slams shut on me.
That's about how my week's been going. 
Shitty.
I have a new job lined up, well, new as in it's for the Eagle Tactical crew. A contract assignment they've given me. They need a full-time bodyguard, and none of their crew can handle the workload on the east coast. They're based out of Breckenridge, Montana, and I'm standing in the deluge in New York City. 
It's not exactly my dream job, but that is no longer an option.
Plus, I need the money.
And by the looks of it, the guy I'll be protecting has plenty of it.
I took the subway and walked the last mile and a half in the rain up to his front gate. The house is nestled behind the iron décor, offering a false sense of security.
I'm not just taking in the whole of the property but also the details. There's a surveillance camera at the front entrance and additional cameras aimed at the iron fence along the side. Should anyone choose to climb it, the pointed arrows at the top should deter them.
Assuming there are no blind spots as well. I'll need to examine the footage, the cameras, and the entire house to make sure everything is working as it should be. The team prepped me on the client, Mr. Kyler Greyson, and his daughter, Bristol. 
The Eagle Tactical guys set up the security system years ago when Kyler moved into the property.
He's well known, practically famous if you're into sports.
He's a hockey player.
Me?
I've never been to a hockey game and haven't spent more than a few seconds channel-surfing past one. That's my idea of a sport.
I press the buzzer as lightning illuminates the sky. Thunder pounds overhead, and the gate unlocks before I have time to speak. 
He doesn't ask me to show my identification or prove who I am over the surveillance system. And while he's expecting me, given the fact I'm here to protect his family, I'm not happy with how the security within the house is being run.
Quickly, I step in through the gate and hurry across the cobblestone driveway to the front of the house. It hardly should be classified as a house, considering its grandiose size. It makes a mansion look like a shack.
I shut my umbrella while under the front porch and leave it outside, not wanting to make a mess upon entering.
The front door swings open, and a gentleman in dark jeans and a white t-shirt stares back at me. He's got a thick head of dark hair that I refrain from running my fingers through.
One glance, and I recognize him. 
How could I not after doing my own bit of research before meeting him? I needed to know what kind of person would want to stalk him or his kid.
It's strange, but I guess being in the limelight does that. People think they know you because they've been to your game or watched you on television. 
He probably has dozens of women lining up to be the next Mrs. Greyson, begging for his affection and attention.
"Hi," I say. It's not the most proper and professional introduction, but the cold rain seems to have stolen the words right out of my mouth. I wipe my feet, my heels not the least bit saved from the rain or mud puddles I splashed through on my way here.
"You're wet." His dark gaze stares right through me.
I shiver.
He isn't wrong.
But it's not the fact I'm soaked from the rain that sends a tingle through my core.
He stares at me as though I were naked, seeing right through me, pinning me with those dark eyes and long thick lashes. He's every girl's wet dream. 
"I hadn't noticed," I say with a smirk.
"Can I help you?" he asks, glancing me up and down. He folds his arms across his chest, allowing me inside but blocking me from entering beyond the front entrance.
"I'm the new bodyguard," I say. I suck in a sharp breath. "Did no one inform you that I was coming? I'm Emerson Ryan." I hold out my hand to introduce myself. "I've been hired by Eagle Tactical to protect Mr. Greyson's daughter, Bristol." 
He scoffs and steps back as if I've burned him. "The hell you are. There's no way you're capable of protecting my daughter. I was told that Mr. Ryan would be here to protect Bristol."
"Ms. Ryan," I correct him. "And I'm plenty capable of protecting your daughter."
His gaze moves over my body, lingering a little too long on my breasts.
I sweep my foot out and knock him onto his ass, staring down at him on the wooden floorboards. "See, plenty capable. You don't have to worry. I trained at Quantico."
I offer him my hand to stand, but he doesn't take it. He dusts his jeans off, although he seems fine, except for his ego getting a bit bruised.
I remove my wet coat and find myself an empty space to hang it by the door, making myself at home.
"Why don't you work for the FBI anymore?" He turns and walks away from the front entrance. "Are you coming?" he asks flippantly, waiting for me to fall in line with him.
I hurry to catch up to him. He's nearly a foot taller than I am, and his strides are huge. It's no wonder he's an athlete. The man is built for it.
"I resigned from the FBI," I say. I don't want to delve any further into that topic.
"Resigned or were fired?" He spins around to face me as we stand in the hallway a little too close.
I feel that sizzle between us and do everything I can to push that feeling away. Bury it. He doesn't get to hold my heart.
"I'm waiting," he snaps.
I refuse to cower to him, even if he stands a foot above me. I stare up at him, unwavering. "I quit after my boss was sexually harassing me." There's more to the story, but it's not a path down memory lane that I want to travel.
"You didn't take it up the chain of command?" His brow tightens, and his bottom lip frowns. There's a softness to his features, a warmth that he exudes when he shows concern. Although, I'm not sure if it's for me or the fact he's disappointed.
"I did, and it was his word against mine," I say, shifting uncomfortably. "Since I'll be spending time with your daughter, I don't imagine that will be an issue."
"You have nothing to worry about," Kyler says. 
"Of course." I force a smile. The tension between us makes the room feel several degrees warmer. Or maybe it's the fact that his gaze hasn't left mine, and I'm not used to having such attention cast on me.
It won't last. He's one-hundred percent off-limits. 
And I swore I wouldn't get involved with a married man.
I glance down at Kyler's left hand. There's no wedding ring.
Not that it should matter. He's still the client. My boss. And nothing can happen between us, nor should it. As far as I'm concerned, I'd be happy never dating again. Men, sex. It's all highly overrated.
And if that isn't reason enough, he has to be a playboy. The man is a star athlete on an NHL team. He can have any girl he wants. What makes me think he'd even look twice at me?
"Good," I say, and clear my throat when he's standing a little too close and staring too long at me. 
"I'm still not convinced you're the best person for the job," he says, leaning against the wall. 
Is he waiting for me to convince him?
"Give me two weeks," I say. 
"I'll give you one."
There's no such thing as a private moment when your fake fiancé is a professional hockey player.
"Daddy says you've been faking it with him."
I cough, shocked by the words coming out of Bristol's lips. Does she even know what she said or what that sounds like?
She's six. Of course, she doesn't know what faking it means. But every hockey wife is staring at me, mouth agape, eyes wide.
Steam Rating: 🌶️🌶️🌶️🌶️
FAKING IT WITH THE BILLIONAIRE
DARING THE HOCKEY PLAYER
ARRESTING THE HOCKEY PLAYER (COMING SOON)
Upon purchase, you will immediately receive an email providing access to your Ebook(s) from BookFunnel. Click that link and follow the instructions to read online or download the Ebook to your Kindle, iPhone, Android, Nook or Kobo device.
If you have any issues accessing your purchased Ebook, there is a Need Help? link at the top right corner of the book download page. If you do not receive a download email, visit https://bookfunnel.com/help/.