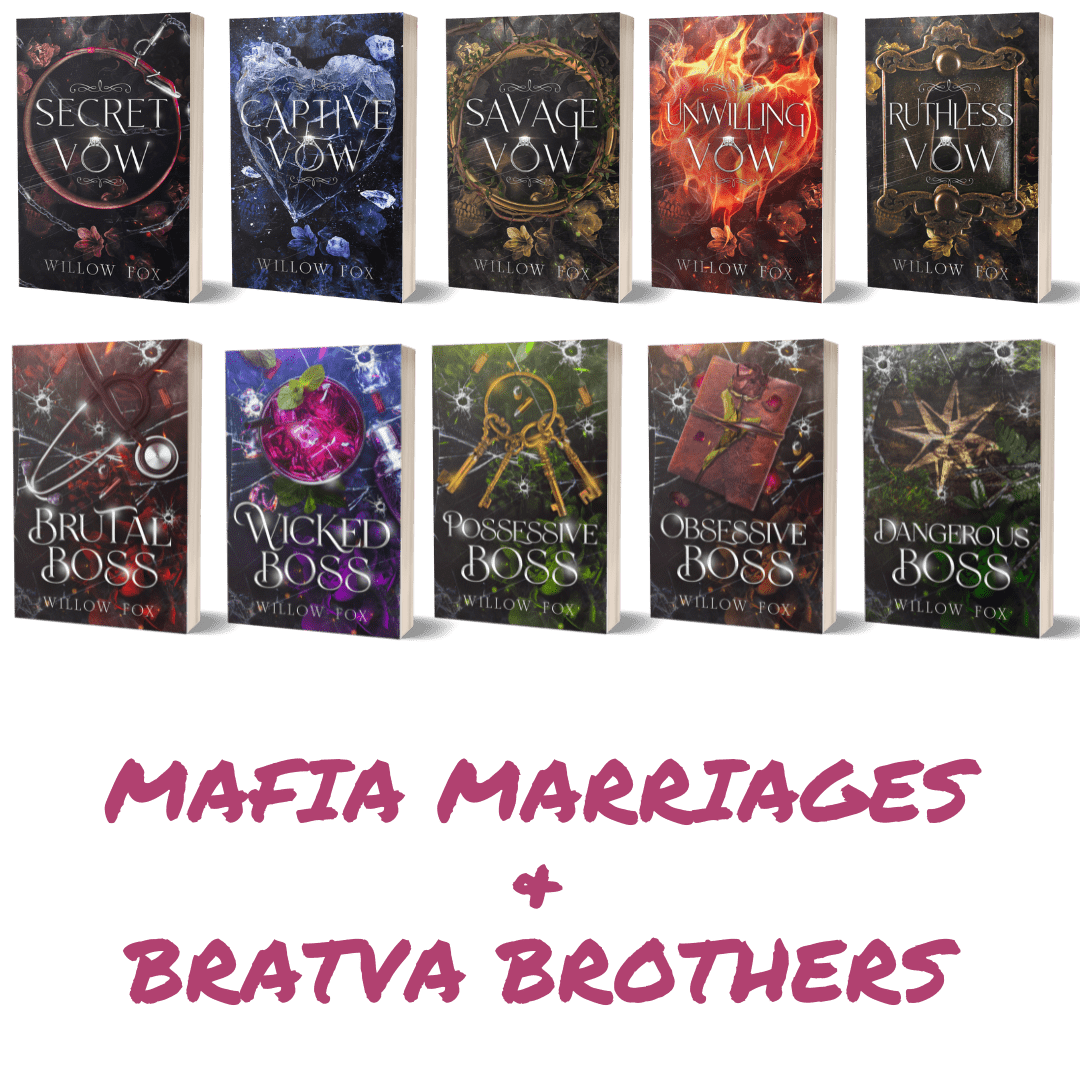 Ultimate Mafia Bundle (Paperback)
Regular price
$219.90
Sale price
$179.99
Save $39.91
/
---
Get all TEN paperback books featuring the MAFIA MARRIAGES series and BRATVA BROTHERS series.
Nikki skirts past me as quickly as she can. I grab her wrist and pin her against the wall.
One hand grasps her towel, and the other is poised above her head, trapping her between the wall and me.
"Dante, what are you doing?" she whispers, staring up at me.
Her lips part and she emits a soft breath that pulls me nearer.
I swear I hear her purr.
"Claiming you, Kitten," I say. "From this day forward, until that baby is born, you will remain here under my protection."
Nikki struggles against my grip, fighting me.
"You'll never have this baby—my baby," she snarls up at me.
"Is that so?" I stare down at her. She has no idea the things I did to rescue her and buy her safety.
Even if I wanted to let her leave, now that she's pregnant, I can't.
Nikki harbors the heir to the Ricci throne if it's a boy. If it's a girl, she will still be my flesh and blood. I refuse to deny either the Ricci name.
"You can't keep me here against my will," Nikki says.
"It's for your safety. Besides, as far as I'm concerned, you haven't repaid your debt."
The color drains from her face. Her eyes widen and sparkle. "About that," Nikki says. "I can explain."
Continue reading Secret Vow if you like: 
Enemies to Lovers
Dark Romance
Surprise Pregnancy
Mafia Romance
Forced Proximity
All paperbacks included in this bundle:
Secret Vow
Captive Vow
Savage Vow
Unwilling Vow
Ruthless Vow
Brutal Boss
Wicked Boss
Possessive Boss
Obsessive Boss
Dangerous Boss
Signed special edition (SE) print books require additional processing time. After you place your order, I ship the SE book to me to sign, and then repackage it and ship the order out to you. Please allow 3-4 weeks, plus shipping time to you.
Unsigned print books are shipped by our print fulfillment partner, BookVault. Rates and delivery times will vary depending on your country, delivery address, and shipping method. Current turnaround is about 2-3 weeks.
There are no returns on paperbacks. If your item arrives damaged, please reach out and we will gladly fix the issue.