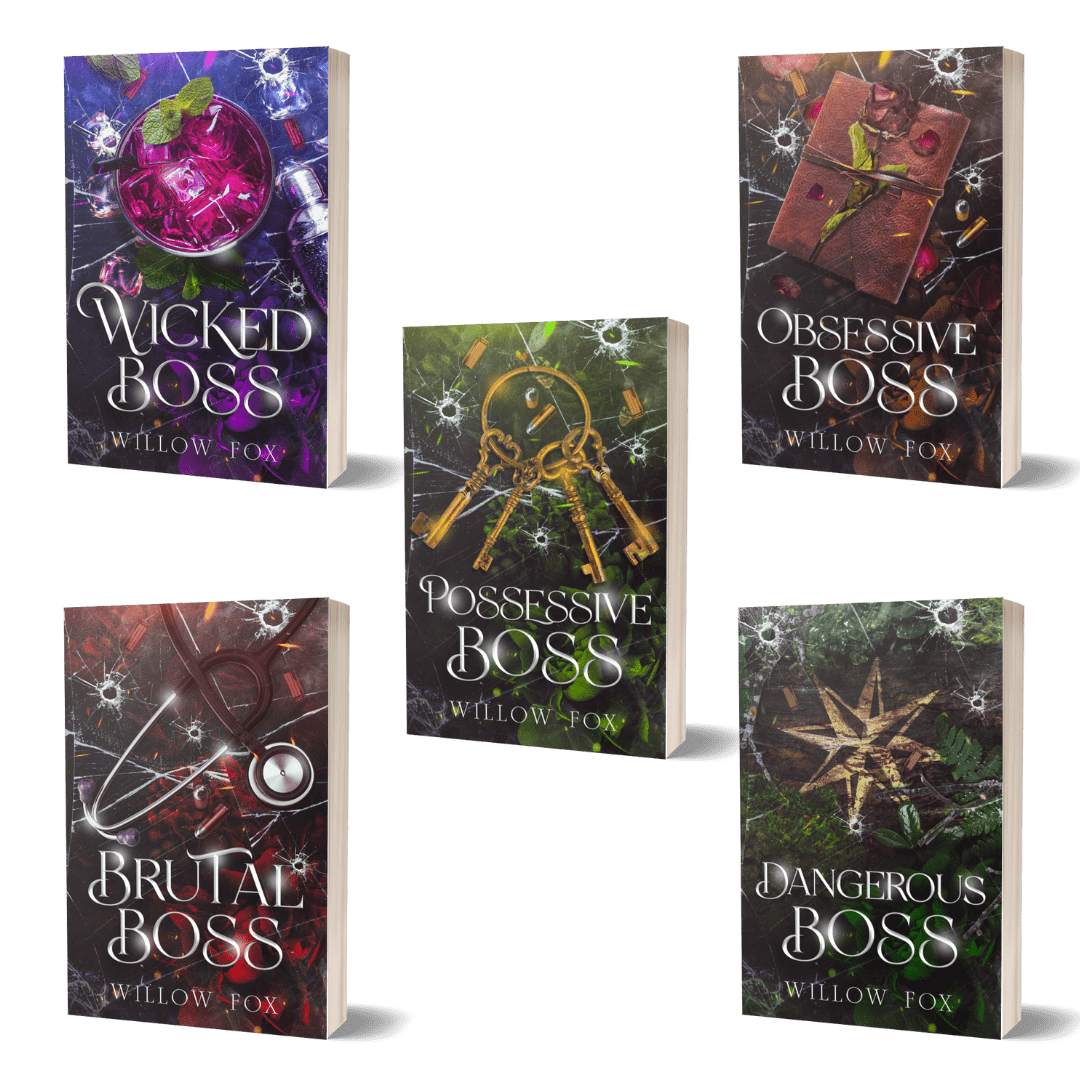 Bratva Brothers Series (paperback)
⭐️⭐️⭐️⭐️⭐️ 2,481+ Five-Star Reviews
Regular price
$110.00
Sale price
$100.00
Save $10.00
/
---
Get all FIVE Bratva Brothers books in paperback.
I stop on the third stair and turn around to face her. "You need to get out of those wet clothes."
Madisyn's hair is wet and tangled against her skin. Her clothes cling to her body, making her bra see-through and giving me an ample view of her breasts through the white cotton shirt.
She wraps her arms around herself, shivering.
"Come now, or I'll carry you," I say.
Her brow tightens, and she opens her mouth like she's going to make some smart-ass remark. But instead, she grunts her answer, "Fine."
Madisyn follows me up the stairs, and I escort her into my bedroom. Usually, I'd frisk a girl, make sure that she's not hiding a weapon or wearing a wire, but it's considerably apparent there isn't much under her clothes.
Even so, being a bratva boss, one can never be too careful.
"Strip," I command.
"What?" Her fingernails are digging into her forearms, her hands clenched.
"You need to get out of your wet clothes, and I need to make sure you're not harboring a weapon," I say. I forego the part about wanting to ensure she's not wired. There's no reason to scare her. She has no idea what I do for a living.
I stalk across the length of the room and open the drawer, retrieving a black t-shirt and sweatpants. They'll be too big on her, but there's a drawstring she can use to tighten them a bit.
In the meantime, I can have one of my men throw her clothes in the dryer while she warms up inside the house.
"Can I use the bathroom?" she asks, holding out one hand for the clothes I've acquired from the dresser.
"No. I wasn't joking about the weapon."
"I wasn't joking about changing in the bathroom," Madisyn says.
There's a fire behind her gaze, and I hate to admit I like it a lot. It's unheard of that anyone challenges me, and even rarer that it's a woman.
My gaze moves over her wet clothes again. "You were at the medical center today," I say, recognizing her from the elevator.
"I'm a nurse," Madisyn says.
"Then you know that this is strictly business and can appreciate detaching from a situation."
Her jaw drops, surprised by my remark. "You aren't serious? I'm not changing in front of you."
"Then I guess you're not getting the dry clothes."
Continue reading Bratva Brothers if you like: 
Enemies to Lovers
Mafia Romance
Dark Romance
Spicy Romance
Forbidden Romance
This five-book paperback bundle features:
Brutal Boss
Wicked Boss
Possessive Boss
Obsessive Boss
Dangerous Boss
BRUTAL BOSS
WICKED BOSS
POSSESSIVE BOSS
OBSESSIVE BOSS
DANGEROUS BOSS
Signed print books ship directly from Willow Fox. After you place your order, I fulfill from our print vendor, and upon receiving the order, sign, repackage, and ship it to you. Please allow 3-4 weeks, plus shipping time to you.
Unsigned print books are shipped by our print fulfillment partner, BookVault. Rates and delivery times will vary depending on your country, delivery address, and shipping method.
There are no returns on paperbacks. If your item arrives damaged, please reach out and we will gladly fix the issue.